The

METER METHOD
A revolutionary online course that will empower you to reclaim your life from persistent pain.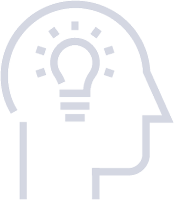 FINALLY UNDERSTAND WHY YOU HURT.
FOLLOW A SIMPLE FIVE STEP PROCESS.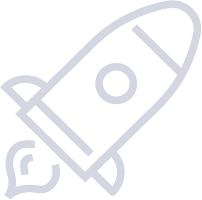 GET UNSTUCK AND GET BACK TO YOUR LIFE!
PHYSICAL AND EMOTIONAL WELLBEING IS YOUR NATURAL STATE.
But has chronic pain robbed you of your wellbeing and left you:
YOU DON'T HAVE TO LIVE THIS WAY!
The Meter Method is for YOU if:
Take a quick quiz to find out whether you are likely to benefit from The Meter Method.
Check out the Frequently Asked Questions for lots more information.
Chronic pain is expensive. How much do you spend on medications and medical appointments? Drive-thru food because you're too worn out or overwhelmed to prepare home cooked meals? Gadgets, gizmos, supplements, and creams that were supposed to get rid of your pain but collect dust instead? How much income are you losing because persistent pain has prevented you from getting a promotion, completing your education, or advancing your career?
And this is just the financial expense — the far more significant cost is the way pain has affected all aspects of your life. Ask yourself: What would it be worth to me to have more energy for the things that are important to me? To have more stable, positive moods? To rediscover the joy and motivation that persistent pain has stolen from me?
This program used to only be available to my patients at my clinic in Texas, where they would pay thousands of dollars to learn this information over the course of many one-on-one sessions. Now you can have the same experience, for a fraction of the expense, in the comfort of your own home.

In his book Explain Pain pain scientist Dr. Lorimer Moseley explains that "You will have pain when your brain concludes that there is more credible evidence of danger related to your body than there is credible evidence of safety related to your body." When I first heard this explanation, it made me think back to my high school science laboratory, where there was a scale that looked like this…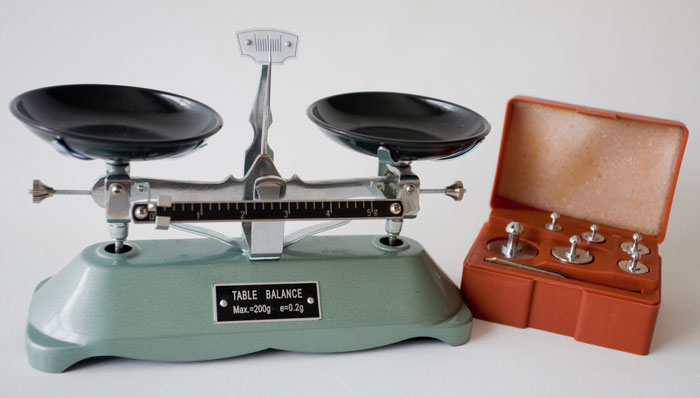 …and that got me to thinking about my pain in this way…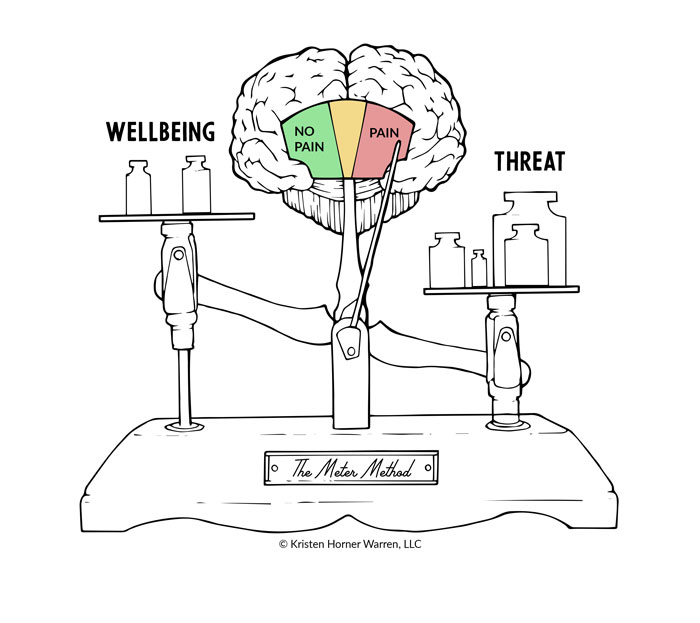 …with factors like my anger, my fear of pain, my belief that my body was fragile and that I had to go to great lengths to avoid provoking a flare-up, and the disempowered victim story I was telling about my life and my pain serving as weights on the threat side of the scale and keeping the meter in my brain firmly pegged on "pain".
Then I started working the steps of what would eventually become The Meter Method…
Out of desperation I set my skepticism aside and embraced a mind body explanation for my pain.
I brushed up on my neurophysiology and began to develop a high level of confidence the problem was in my brain, not my body.
I claimed the truth that my body was healthy, normal, capable, and strong.
I systematically started unpacking and examining some brutally difficult, ugly emotions I had been denying and ignoring and, in so doing,realized that, although these emotions were not pleasant, they were also not dangerous. I could face even the most difficult feelings, learn from them, breathe through them, and let them go.
I started telling a new story (both inside my own head and to other people) about my body and all other aspects of my life.
I started doing things that I had long avoided doing for fear of a flare.
I stopped using my pain as an excuse and started taking responsibility for myself.
I stopped kowtowing to pain by thinking of my prescription pain medications as an absolute necessity.
Each of these small choices and actions served to both remove weights from the threat side of my scale and place weights on the wellbeing side of my scale. Although it didn't happen overnight, several months passed and finally the meter in my brain started looking like this instead…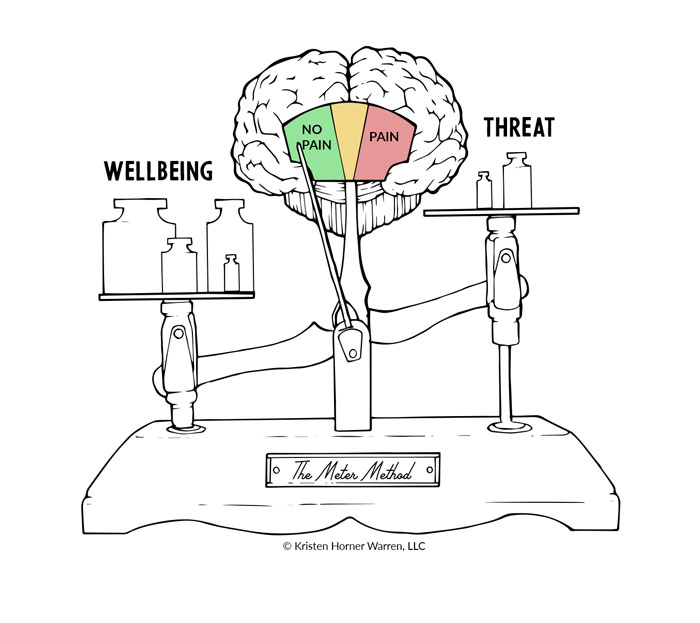 I started sharing this image with my patients and they found it helpful, so I made the scale/meter concept central to my teaching method! METER is also a handy acronym which will remind you of the five steps for reclaiming your life from pain.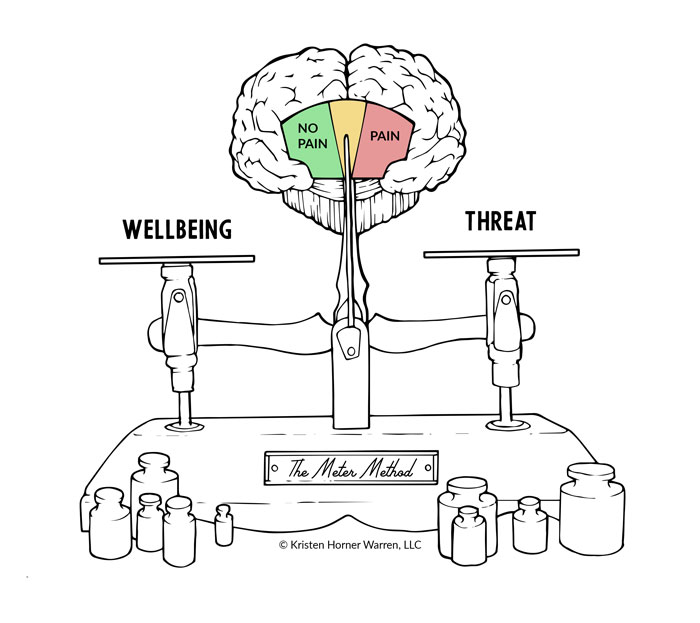 This is covered in much greater depth in the course, but the basic gist is this:
From moment to moment weights are being placed on and removed from the THREAT and WELLBEING pans on your scale.
Your brain determines, based on factors like beliefs, emotions, and memories, how big the weights are and whether they belong on the THREAT or WELLBEING side of your scale.
If the balance tips in the direction of THREAT, your brain will create pain. If the balance tips in the direction of WELLBEING, pain will be rendered unnecessary.
The Meter Method is all about helping you to identify, understand, and control where weights are being placed on your scale. Some weights are obvious and easy to understand, but others are sneaky and hide in difficult to find places. Some of the biggest THREAT weights are the limiting beliefs downloaded to your brain during early childhood or hidden wounds picked up on your life journey. The Meter Method will help you to track down these hidden THREAT weights and will also help you cultivate the WELLBEING weights that will have the greatest positive impact for you.
By the end of The Meter Method you will know yourself very well and will be able to load up the WELLBEING weights and offload THREAT weights like a pro!